We just finished our first week of our first visit to Portugal. We are here for 26 days to figure out if we would like to move here, and if so, create a short list of places to dive into deeper.
Context: Married couple. In our 40's. No children but two terriers that are very special to us and need outdoor space. We live in Silicon Valley. Chris works in tech. Emily works in Education. One of the goals of moving to Portugal would be to slow down, but we would still probably work part time online and possibly look into one of the international schools.
Housing/living preference: We want what a lot of Americans want and probably can't have very easily here. A house with at least a small yard that has access to good public transportation and is walkable to places one would want to go on a daily basis. We love greenery, nature and charm. The weather is very important. Emily tends to wilt above 90F. We don't mind theoretical rain, but it does seem a bit tricky to navigate without a car and on the slippery and hilly cobblestones. In general, we probably prefer large towns or small cities. We don't want to be too far from the airport and/or international schools (if I decide to go that direction).
Scouting Photolog: Week 1- PORTO Region
I thought we would like Portugal or I wouldn't have made a serious consideration out of moving here, but we actually like it even more than we imagined.
Some general observations.
English – a number of questions get posted in these forums about how important it is to speak Portuguese. The answer is often that most people speak English. If you consider most to be 50% or more then I would agree with that, but in this area I would say about 70% of the people we tried to talk to spoke English. I am grateful for my Spanish skills because it is very helpful in reading because there are a lot of cognates. It isn't as helpful listening/speaking. Although, I have had 2 conversations in Spanish because that was the language we had in common.
Getting around – If you rent a car, pay extra for the toll road transponder. You won't be able to get around without it. Signage for roads and public transportation is mostly clear and easy to follow. 
Driving around outside of the cities is simple and congestion free (with many marvels of engineering). Driving in the cities isn't for the faint of heart.
Disclaimer: These are our opinions. I would expect other people to have different opinions and priorities.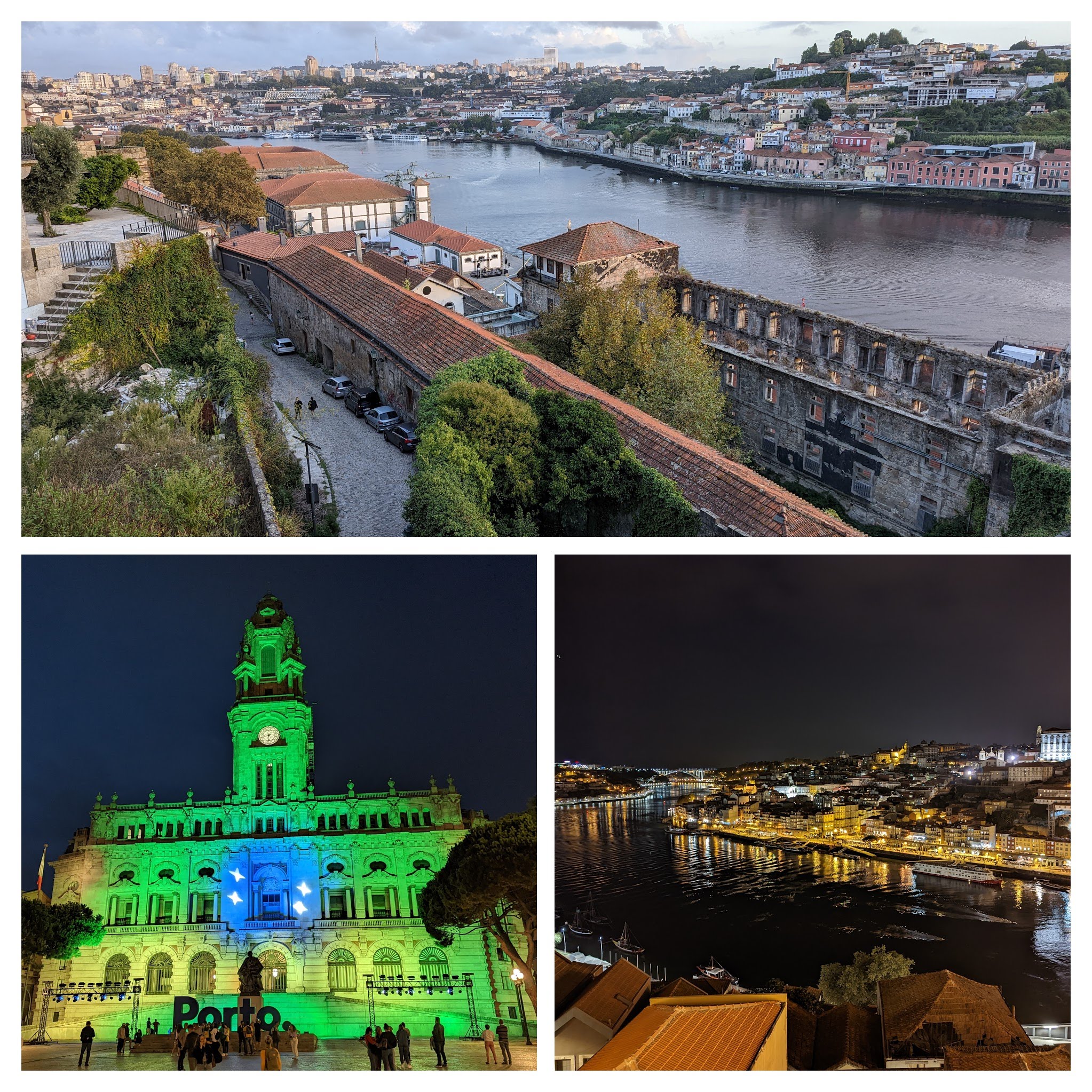 Porto is absolutely charming. We stayed near the historical center. I liked the area from there to Bonfim.
It seemed very walkable, easy to access everything you could possibly want., well connected to the metro and buses. It is more touristy. That would probably get annoying in the summer.
It is loud, so you would need to get a place with good soundproofing. I think it would be really fun to live there for about 1 year. I'm pretty sure I would get tired of it after a while.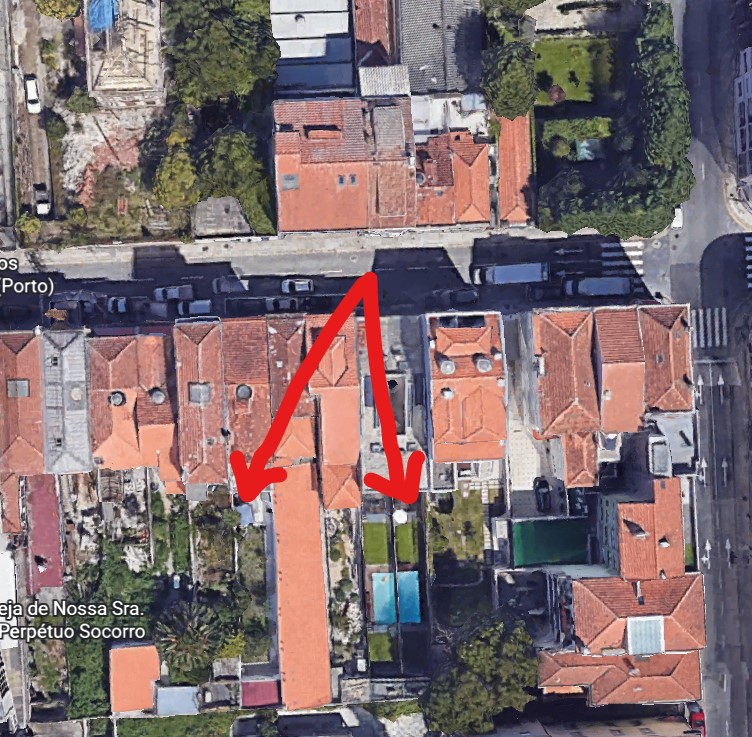 I got my haircut and was telling the stylist that I liked Porto, but I didn't know if I could live there because I need a yard for my dogs.
He showed me a photo of the street his shop was on from Google Earth.
He pointed to the charming row houses across the street and said, you would never guess, these houses have a yard and a pool. The house next door also has a yard. Apparently, there is a whole world of greenery hiding behind the historical buildings. He said sometimes the yard belongs to the first floor. Other times it is shared by everyone in the building.
This information made me totally reconsider Porto as a serious option.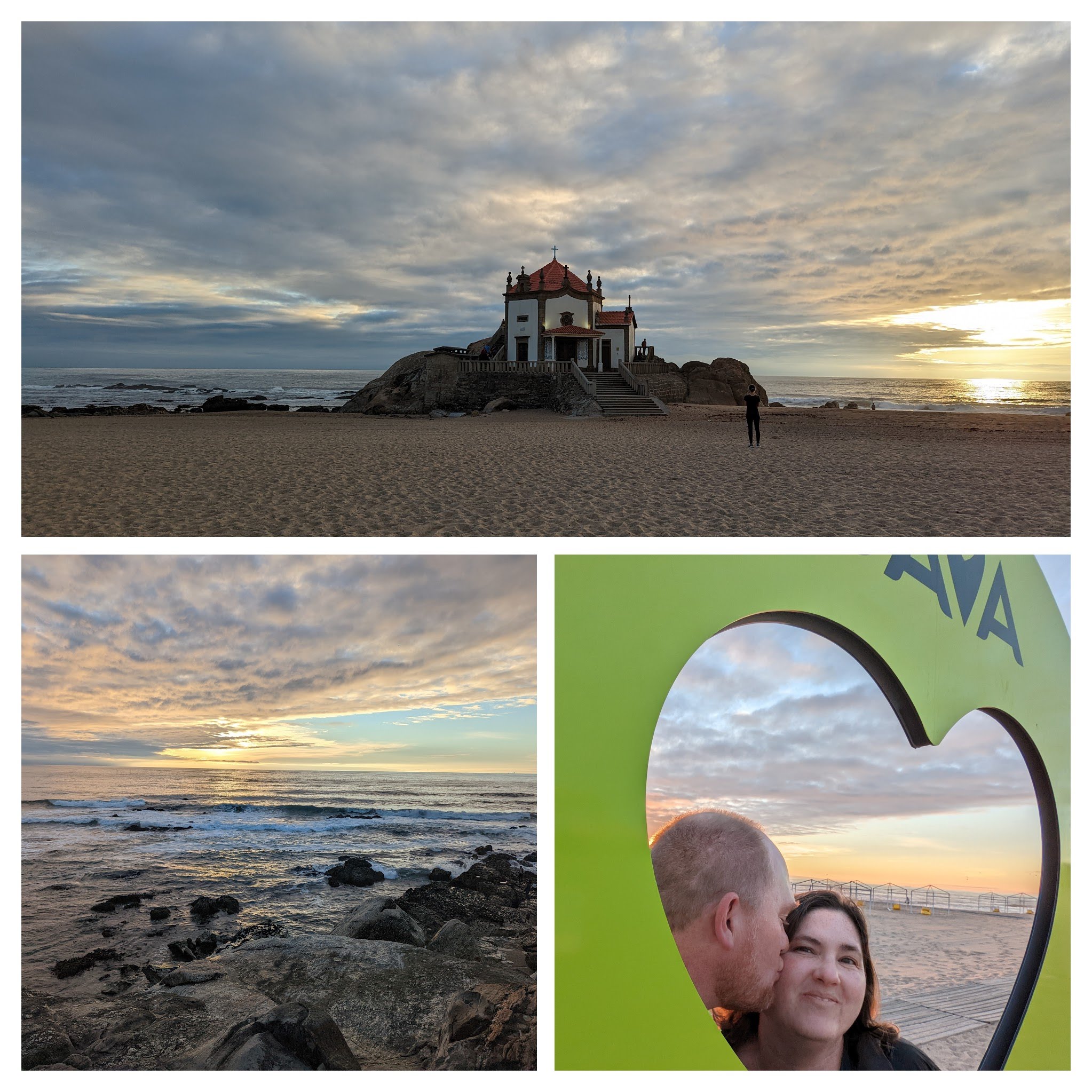 Matasinhos has been recommended to me numerous times, so we went there on day 2 thinking it was going to be a good contender. Instead we found a dreary beach with 60's style concrete box apartments across the road. It had an industrial feel and smelled like fish. We decided not to waste any more time there and ordered a Bolt.
The driver told us he lives in Gaia. He said it is an easier place to live than Porto. He recommended we go to a beach there instead. 
We took his advice and fell in love. It was stunning. It smelled good (like the sea instead of rotting fish). It had some infrastructure like bike paths and boardwalks. The neighborhoods around included single family homes with yards. They are not walking distance to everything, but the train to Porto stops there and with the bike paths, it would be easy to mix that in.
This place made it on to our short list. Thanks Bolt Driver!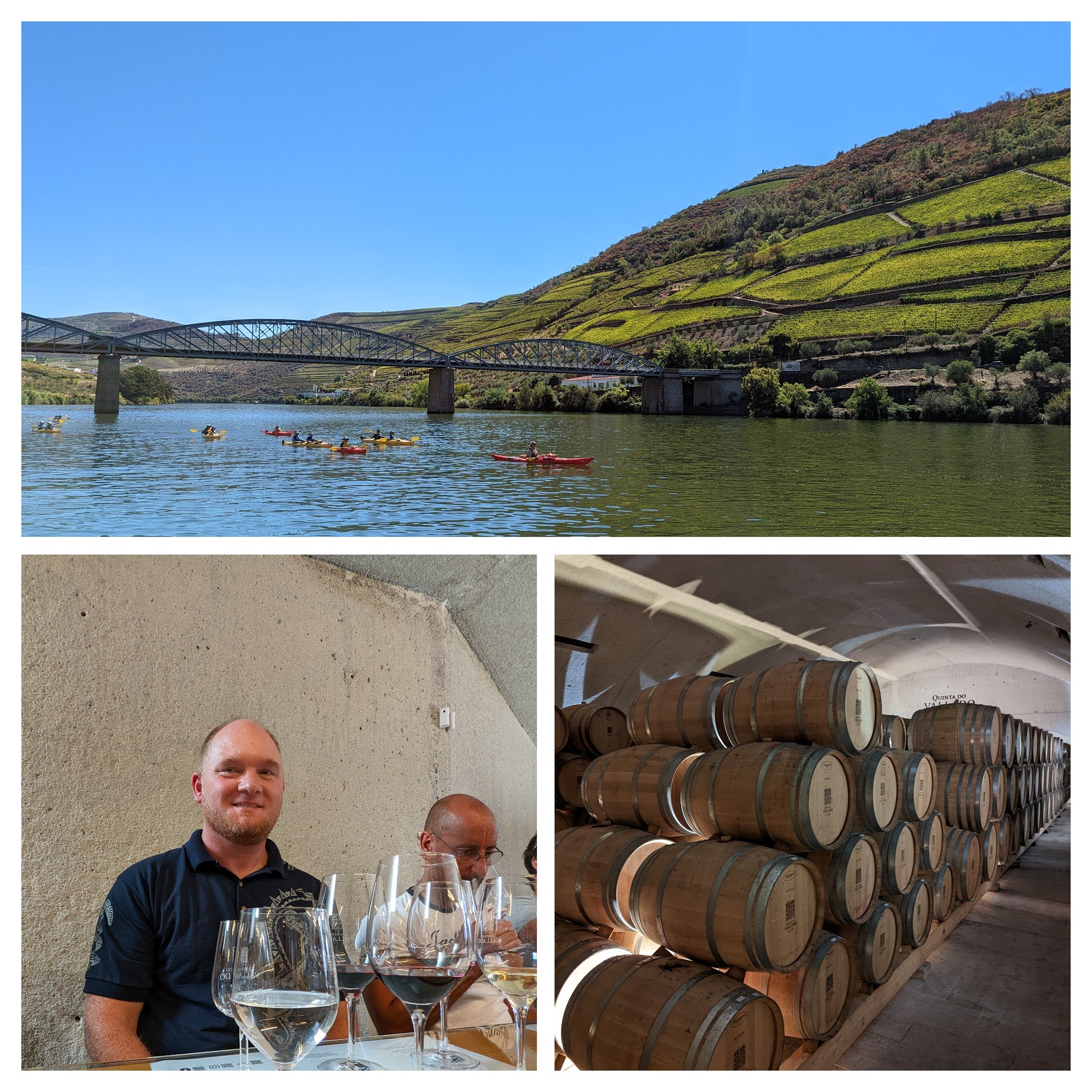 The Douro Valley was just for fun. It is not on our list of potential places to relocate. It is beautiful. We drove ourselves instead of doing the tour. That was not the best decision. We may have saved a little money, but not much, and it was much more stressful.
The only positive was that we stayed the night in an amazing place Casa Agricola da Levada Eco Village. So beautiful and relaxing and friendly. For people who are interested in small
cities a little inland and surrounded by nature but not as well known, the hotel was in a town called Vila Real. It could be just the right fit for someone reading this.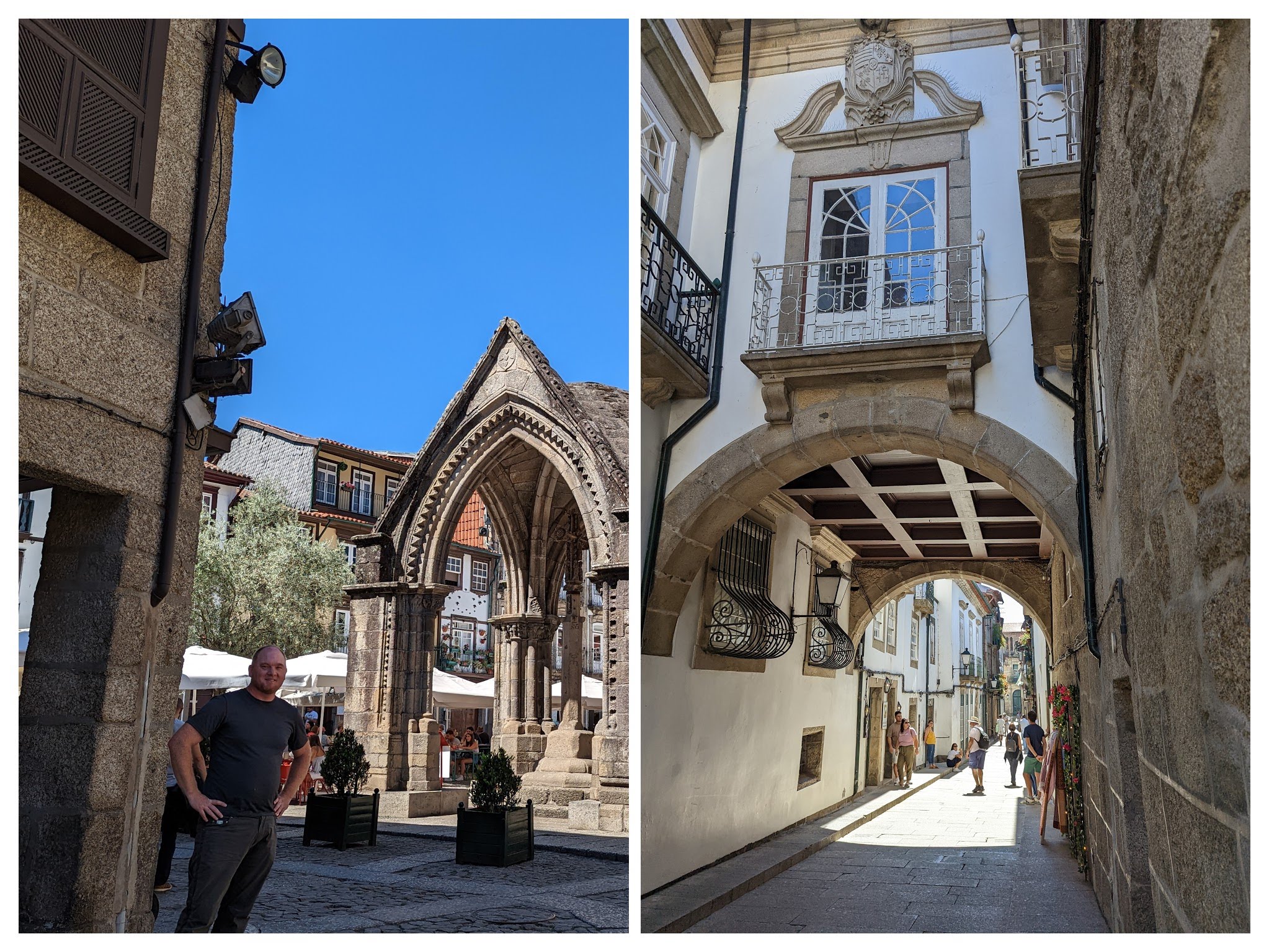 Guimaraes was another tourist destination rather than a potential place to live. It is about as quaint and magical as European villages come.
I figured it wouldn't be a practical place for most people to live, but outside of the historical center was actually a much bigger town than I realized, so it might have potential for some. If you go on a day trip to Braga, add this to your list.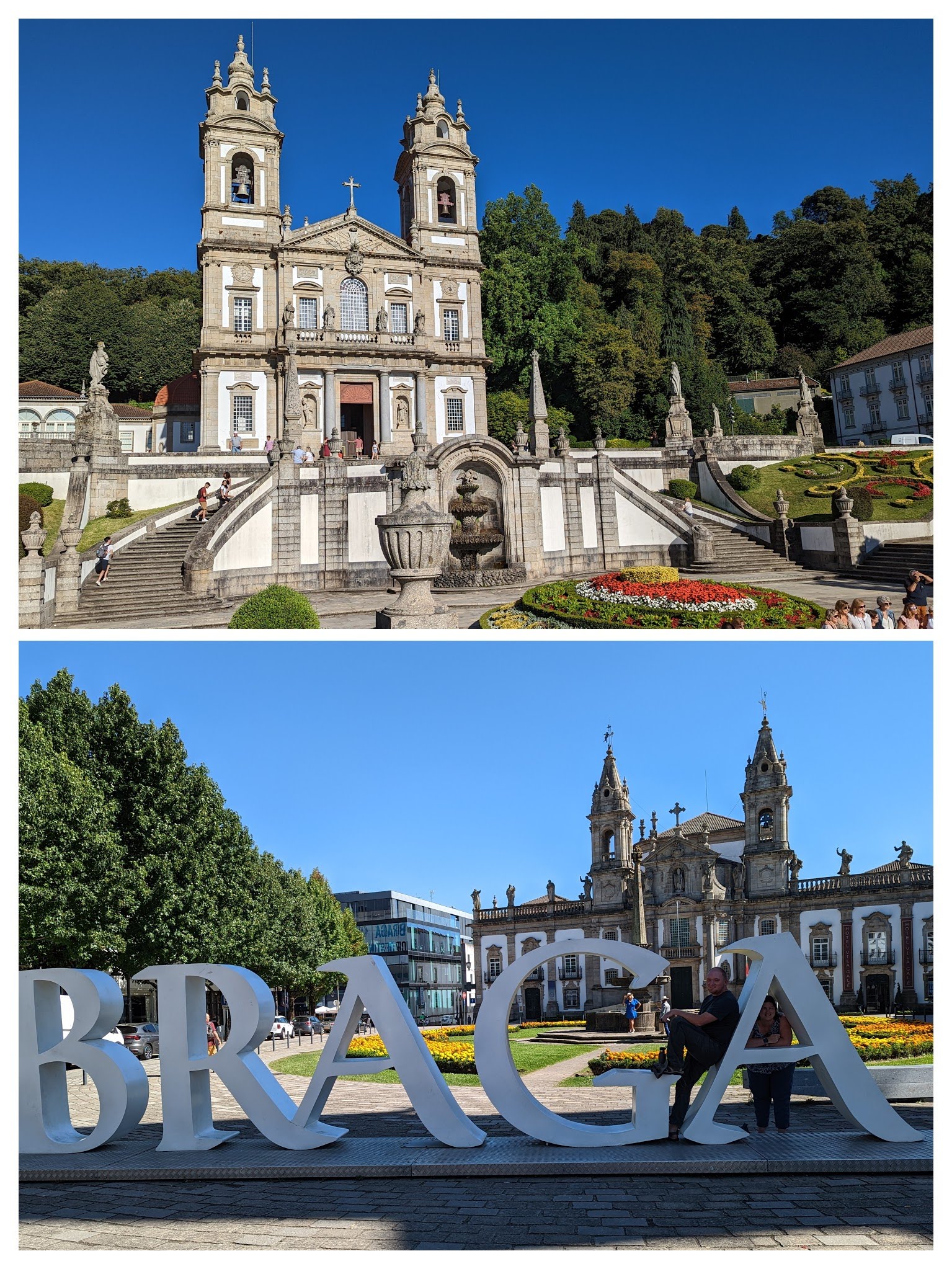 I'd heard many wonderful things about Braga. I wasn't sure about it because it seems like it has the heat than I prefer and the rain I'm concerned about. But, it also looks beautiful and has the nature we appreciate, so we decided to visit.
My impression was that Braga is in a valley bowl, so it is completely surrounded by nature. However, it didn't have trees mixed in quite as much. Although, they do incorporate flowers more. It seemed nice, but I guess not better than Porto and unless you find a price that makes it worth it, I'm not sure I would move there over Porto.
The hairstylist told me I have to eat the best chicken in Portugal at Casa dos Frangos. I looked it up on a map and it is in some small town about 30 minutes outside of Porto in de varzim.
I thought we were going to a small hole in the wall secret place. HA! Definitely not secret. There was an hour+ wait for a table and it seemed that half of Porto drove up to get their chicken.
While Chris was waiting in line, I went in to use the bathroom and discovered they have a to-go counter, so I ordered a chicken, chips and salad to go. They served the chicken right off the rotisserie skewer and 5 minutes later, we were ready to go.
We drove 10 minutes to a stunning beach and had ourselves a little picnic. The only problem is they didn't have any utensils to give us, but we figured it out.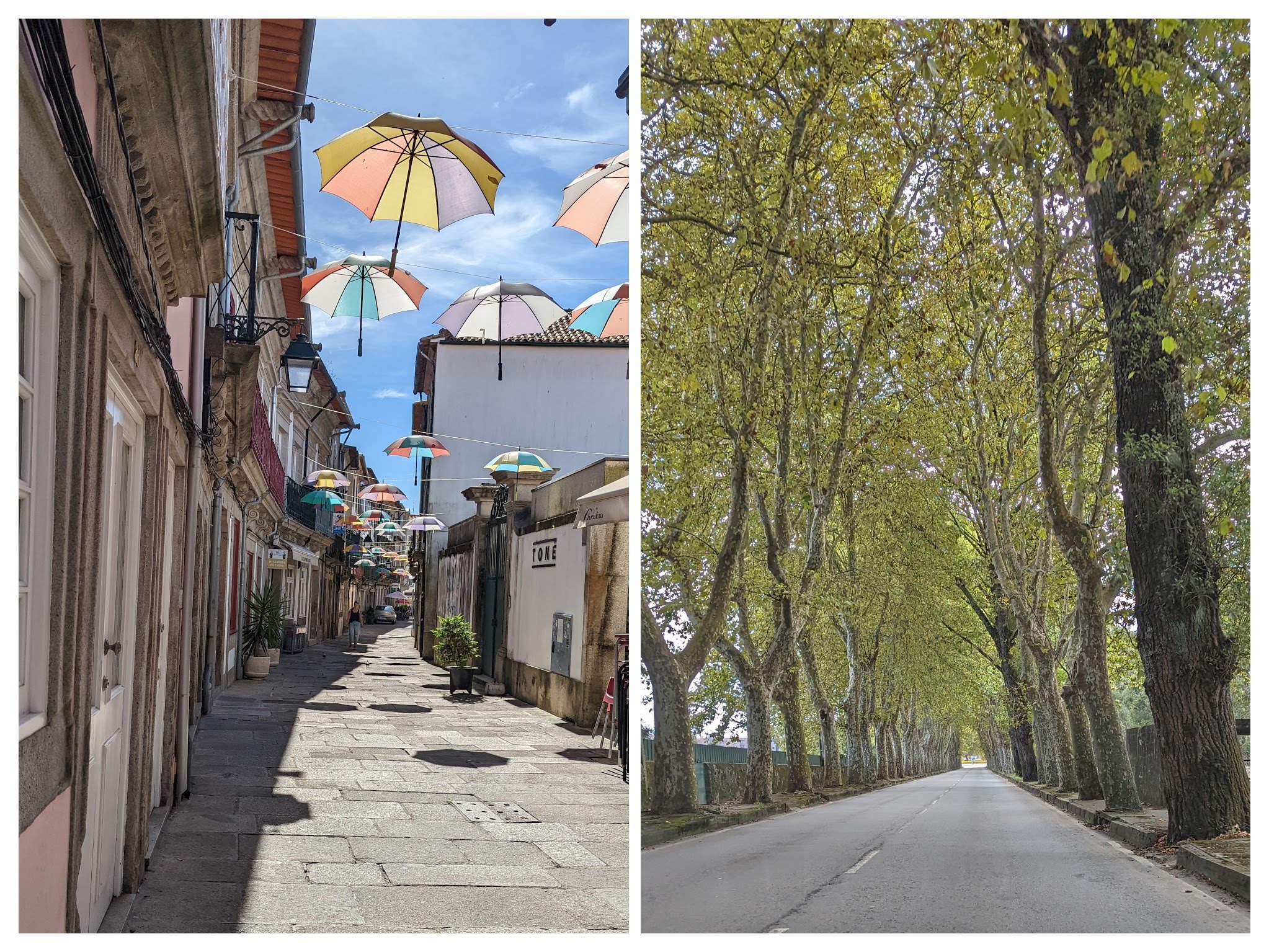 Viana do Castelo is a magical little place. Thank you to the FB group member who lives there and recommended it.
If we were going to retire completely, I think it would be our top choice. I loved the green and the ocean and the charm of the historical district all rolled into one.
Not far out of town, you can rent a detached home with a yard for $1600 and bonus, you get to drive through the tree canopy to get there. While it does have a train to Porto, he train takes more than 90 minutes, so it would be challenging if you want to leave on any kind of regular basis which we might. It is currently on our short list, but after we do more soul searching and narrowing down how we will spend our time, it may have to come off the list.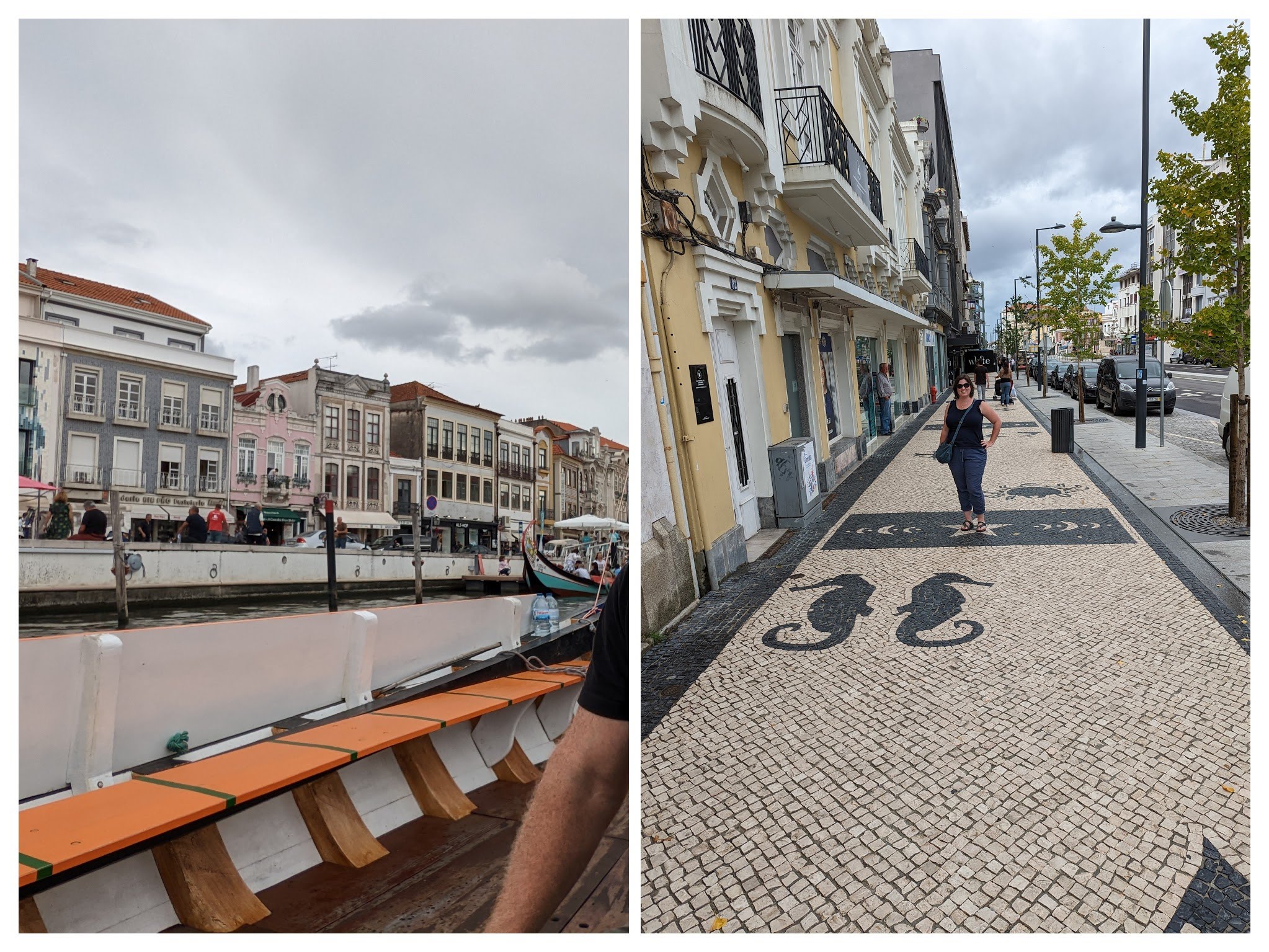 Aveiro is a fascinating small city.
I'm not sure why, but tons of money is getting poured into infrastructure development right now. So there is a lot of construction going on. This small city also has lots of positives.
It's less than 1 hour from Porto by car. Although I think closer to 90 minutes by train.

It has oodles of historical charm, but the new buildings are right there as well.

If I wanted to live in an apartment, this might be a good place because many of the apartments are newer, but they are right there in the mix of things.
What Americans think of as duplexes with yards are also available right outside of town with nice bike paths that would provide easy access. The main con is that I saw a lot more to buy than rent. For us, it has the same problem as Viana do Castelo of being a little far, but it did seem like an easier place to live without a car.