When I told my daughter that I was moving to Portugal she said, "That's a hairbrained idea. You have never been to Portugal". I kept saying it to my friends or even strangers! Until I started to believe it. My daughter got onboard to help me 'sort' the complexities of getting my Residency card. 
I'm almost 70. I haven't traveled much. I didn't start a career until late in life. I decided San Francisco needed a fashion magazine. So, I started one. Ten years later, I opened an interior design/staging business. It's really hard to find the time to get away when you work for yourself. 
I got a cheap flight to Lisbon late one night. And, started my journey a month later. The hardest thing to do was walk out the front door.
I arrived in Lisbon and was delighted that it reminded me so much of San Francisco. I traveled up the coast to see more of Portugal. Aveiro, Porto, Douro Valley, Coimbra and Cascais. But, I had really connected to Tavira in my research. So, I headed to The Algarve. 
I got lucky. I found a 1T (one bedroom) for $500 on Facebook Marketplace. A veranda for afternoon sunset glass of wine. And, a veranda for morning sun and yoga with a view of the ocean in the distance.
I just have to cross the busiest highway….to get to town. 🙆‍♀️ In Portugal, drivers will stop for you if you are in the crosswalk. But, very different when NOT in a crosswalk. Look both ways. And, back again. And, run. Portuguese drive very fast. 
My casa has a train stop just down the hill. When I was in the USA, I felt very isolated in my car, even though I loved the freedom and the luxury. I decided in Portugal, I didn't want a car. I walk. Take Uber or Bolt. Or, take the train. It's half price for me! And, so convenient. 
I have the CP app (Combois Portugal). So, I buy tickets beforehand. I can time when to go down the hill to catch the train. They have even waited for me if the conductor sees me running. I have watched other passengers that are a bit late receive this kindness. I have even witnessed a conductor walk past a snoozing passenger instead of waking him to get his ticket. 😊 Aww, Portugal.
Tavira is on the Atlantic ocean and the Giloa river. It's charming and walkable.
So many restaurants to choose from. My favorites are Cafe/Bar 22 for afternoon cocktails and Thursday night Thai dinners. And, Terraze for great vegetarian options. Both on the river. The Black Anchor (also on the river) is an Irish bar that has music in the courtyard and a friendly crowd. 
The beach is just a sweet 10 minute ferry ride away. I hang out at a cafe (a few to choose from in front of the ticket kiosk) until I see the line is getting short. There are excellent restaurants on Tavira Isla. I rent a cabana and get a little device to communicate with the beach cafe when I'm ready for a G&T or a snack. 
Another favorite thing to do is hike to the small fishing village a couple miles from Tavira. Santa Luzia has lots of restaurants and bars and Barril beach is nearby. I sometimes walk Barril beach to the Tavira end (5 miles away) and take the ferry back. 
When I'm feeling like an adventure, I take the train to Fuseta (another beach town). Faro. Olhao. Or, Loule. Or, even into Spain (bus then train) to Seville. Porto is 7 hours away. A good mystery book trip. 
I have had a few interior design clients. But, my luxury now is time. And, travel. 🙋‍♀️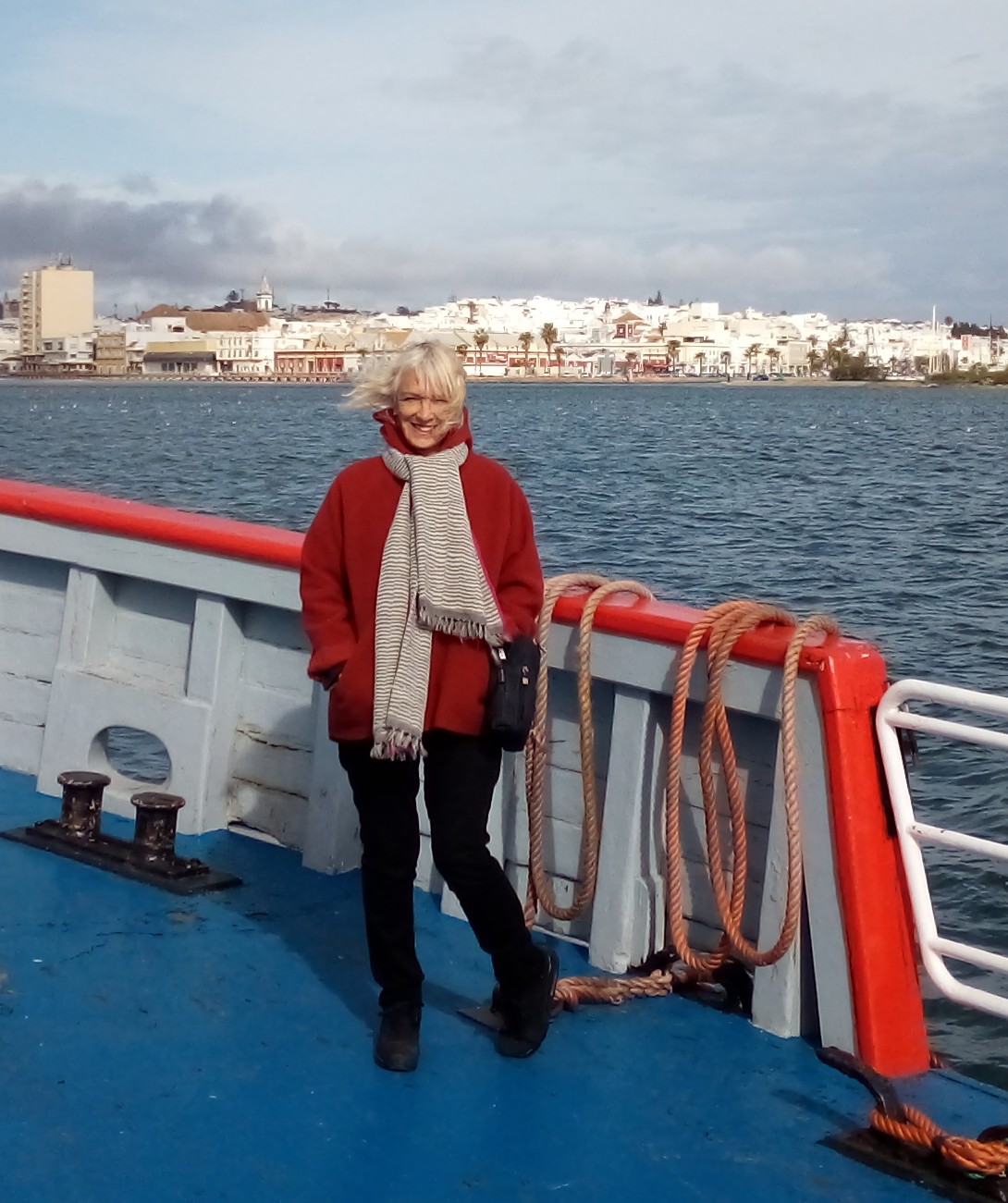 Landes Good
Longing for a simpler life, Landes moved from San Francisco to Portugal three years ago. Making a fresh start, she changed her "fussy American name" to Bella.