After 18 months of living here, we somehow just had our first Bacalhau com Natas. It was on the menu do dia at one of our favorite places in Lisbon to grab the weekly lunch special, Maria Catita.

We were blown away, this deliciously cream codfish dish plus bread, flavored butter and olives and a glass of wine, a dessert and coffee, all for just €10,90. You can't beat it!
And, here's a great list from Taste Atlas of the most popular places in Portugal to get Bacalhau com Natas according to food experts.
We used this scrumptious recipe from Mulher Portuguesa. Here it is for you in English with the addition of U.S. measurements to make it easy to make wherever you are in the world!
Bacalhau com Natas (Codfish with Cream)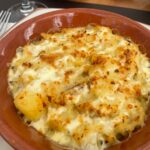 A hearty and delicious creamy codfish and potato dish. Perfect for cold nights.
400 grams (or 14 oz.) Soaked (dried) Codfish Fillets
6 dl (or 2 1/4 cups) Milk
1 whole White Onion
2 cloves Garlic
1/3 dl (or 2 tbsp) Flour
1 cl (or 1/2 tablespoon) Olive Oil
1 kg (or 2.2 lbs) Potatoes
to taste Grated Cheese
to taste Nutmeg
2 dl (or 1/2 cup) Cream
to taste Salt & Pepper
Boil the codfish in milk.

Finely slice the onion and the garlic and sauté in olive oil until soft and transparent.

Drain the cod, remove the skins and spines, cut it into slivers and add to the onion.

Let it stew slowly. Sprinkle with the flour, stir, and drizzle with the codfish cooking milk that has been previously strained.

Let thicken, stirring occasionally.

Peel and cut the potatoes into cubes and fry in a little hot oil, so that the potatoes look more like cooked than fried potatoes.

Drain the potatoes and add them to the cod. Season with salt, pepper, and nutmeg.

Place in a baking dish and spread the cream on top and sprinkle with grated cheese.

Bake in a preheated oven for about 15 to 20 minutes until it is well au gratin.
Serve the dish very hot with a mixed salad on the side. Traditionally, you'll find a simple salad of mixed lettuce and fresh tomato.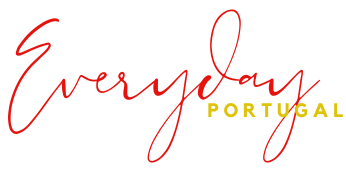 Everyday Portugal
Our mission at
Everyday Portugal
is to show a realistic snapshot of everyday life in Portugal + provide important Resources for Travel, Relocation and Living here.
Join our FREE resource library
for visa & immigration, real estate, lifestyle and travel support. Kick back with a crisp glass of vinho verde and enjoy our
stories from the streets, travel tips, events & meet-ups, immigration/visa stories, recipes, and more!